During these moments of my life as I am in lockdown due to the pandemic of coronavirus, I found comfort in exploring mediums and creating art to ease my stress levels. I have come up with many different ways to become innovative. What I have learned through all that is happening in the world is that in times of chaos comes creativity!
I keep asking myself what better season in my life is there to be creative especially with all this time on my hands. So, I have been wondering have you been feeling the pressures of daily life. What ways are you occupying your time? Do you have artistic talents and gifts that need to be awakened?
Delving into my creative side really helps me clear my mind and get into a place of inner peace!
What is your artistic passion? Is it sketching, painting, sculpting, designing, craftwork, or photography? Whatever fires up your creative spirit, let loose and enjoy the process! Remember you don't have to be an art professional to find enjoyment in creativity. Who cares what you have created? Or how it looks? The only person that matters is you!
"Art is in the eye of the beholder, and everyone will have their own interpretation."
― E.A. Bucchianeri, Brushstrokes of a Gadfly,
You don't need much to get started. Just pick up a pencil, grab a sheet of paper and then find something to sketch.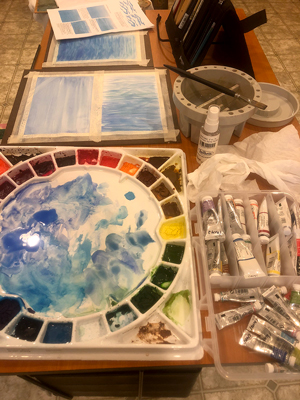 If you have art supplies on hand, it is time to get started on something for the fun of it. Through this whole ordeal, I have been practicing some of my watercolor exercises and started working on two new oil paintings.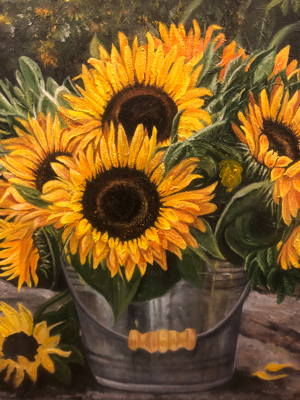 If you have craft items on hand, construct something. Crafts are another avenue of creativity that I often find myself enjoying. Working on something for my home, family or the holidays is so rewarding.
If you have material sitting in your closet, design the newest fashion statement. Sewing is an awesome experience especially when you have a finished product!
If you have a felt tip pen, master the art of lettering. Calligraphy is another great art form to fine tune. Calligraphy is very useful in a multitude of ways in your artwork or craftwork. I have seen some wonderful watercolor paintings with calligraphy as an added element. I happen to have a set of hard tip brush pens for lettering and illustration, and it has been a course of exploration for me.
If you have a camera or a phone camera, take some photos! I came up with a fun game with my phone camera and got my family members to participate with their phone cameras. We played the alphabet game. Every day we would take a picture that starts with a letter of the alphabet. First day was letter "A" and so on. We finally finished up the alphabet in 26 days with some rules in place. You wouldn't believe what we found in and around our homes or places of work to capture for each letter. After each day, all photo submissions were displayed on our family group chat and everyone voted for the best picture for that particular letter of the day. Everyone got creative and competitive because there was a prize at hand for the winner of the game. The winner was determined by who had the most winning letter submissions of the alphabet. My family found a way to have fun, be safe and connect with one another during this lockdown.
Here are a few examples of photos that were taken by my family for the alphabet game:
I could go on and on. I didn't even touch upon, embroidery, knitting, writing, journaling, and all the other wonderful ideas of creativity. These simple suggestions can ease you into a place of artistic enjoyment, change your perspective, and relieve some of the tension that you might be experiencing due to the circumstances that everyone is facing in their daily lives. Just remember to start somewhere and have fun!
Hopefully soon this will be a blink in time! Remember to be safe and be healthy in mind, body and spirit!
Always,
Cheryl Matsumoto