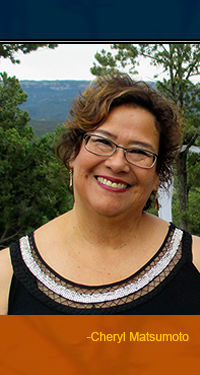 C.Scapes Studio of Cheryl Matsumoto is an entrepreneurial venture that springs from my artistic nature.
I work from a home-based studio surrounded by the beautiful mountains of Northern Colorado where imagination is easy to come by.
I use a mix of current and traditional media to create professional designs that will cater to your business needs at rates you will feel good about.
I invite you to browse though my website. It will give you a solid view and understanding of my graphic design work.
---
Personal Philosophy
• Look up for the answers.
• Honor the day.
• Bring your best.
• Be gracious.
• Give meaning to the journey.
• Be in balance.
• Celebrate the act of existing.
• Be open to miracles and blessings!
• Yes or no, there are no maybes!
• Surrender it and give it over.
• Give errors gladly to correction.
• Perfect gets in the way of better.
• Let it go.
• Push in, not away.
• Turn inwards, it is a personal hello!
• It is a direction not a destination.
• Truth is always victorious.
My true self will never be lost.
It is loved, set free, and will begin anew.
---
Education
Associate Degree of Applied Science in Multimedia Technology
with a concentration in Print and Presentation
Front Range Community College • 2011
Certificate in Multimedia Print and Presentation
Front Range Community College • 2011
Certificate in Graphic Design Technician
Front Range Community College • 2011
Associate in Arts Degree
with a concentration in Early Childhood Education
El Camino College • 1979
---
Software Proficiency
| | |
| --- | --- |
| Adobe Software | Microsoft Software |
| Photoshop | Word |
| Illustrator | Excel |
| InDesign | PowerPoint |
| Dreamweaver | Publisher |
| Bridge | Works |
| Acrobat | Outlook |
---
Other Career Experiences
Graphic Artist for Thrifty Nickel
Northern Colorado
August 2015-November 2017
Learning Center Tutor for Multimedia Technology
Graphic Design (MGD) and related Art classes
Front Range Community College
Larimer Campus
Learning Center
2009-December 2016
Artistic Director for Pretty Brainy
April 2012-February 2016
Artistic Director for Project Youth and Chamber Music (PYCh)
October 2014-May 2015
---
Publications and Exhibits

Cover Artist
The Long Slide • 2010
Cover Artist
FashionablyMashed: The STEM of Fashion Design™ • 2013
Denver University Law Review
Volume 78, 2001, Issue 4
University of Denver College of Law
LATCRIT V SYMPOSIUM ISSUE
CLASS IN LATCRIT: THEORY AND PRAXIS IN A WORLD OF ECONOMIC INEQUALITY
Police in Schools: The Struggle for Student and Parental Rights
Norberto Valdez, Marcia Fitzhorn, Cheryl Matsumoto,
and Tracey Emslie.
Art Collection of Front Range Community College
Three Elements of Peace; Feminine Perspective
Art Galleries of Front Range Community College
Graphic Art • 2007 – 2011
---
Activities and Societies
Phi Theta Kappa
Front Range Creative Community
Students of the Fine Arts
---
Honors and Awards
Summa Cum Laude
Front Range Community College
Outstanding Student Employee
Front Range Community College • 2010